How to spot toxic relationships?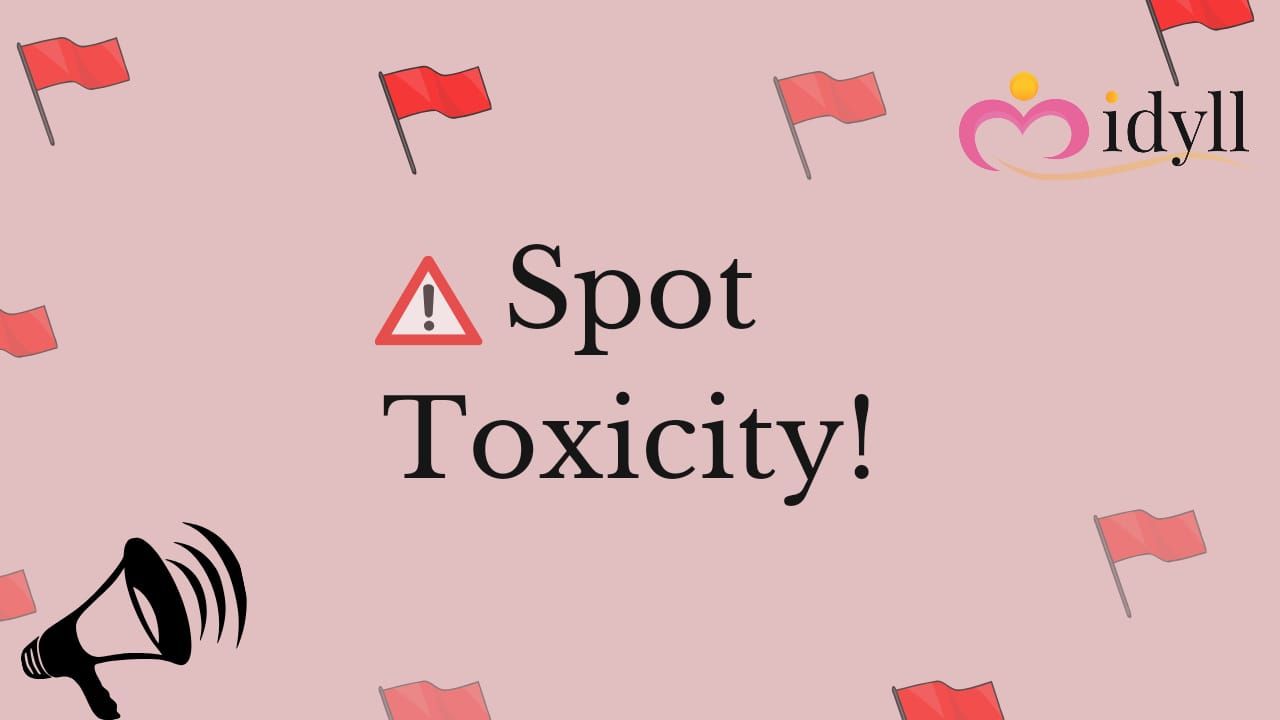 Happily ever after is not a fairytale. It's a choice.
The signs of toxic relationships were being ignored by many 'Jab unka pehli baar heartbreak hua tha'.
Every first love is special to them so every first breakup is also unforgettable. Moving on from your toxic past is the only way you can protect yourself.

Signs of toxic relationships should be spotted as soon as possible because your mental health comes first irrespective of how long you have been with that person
Toxic relationships are too mentally draining. Constant fights, conflicts, no respect for each other are big signs of toxic relationships.

Your mental health is too precious to be ignored by someone else, so please take care of yourself. Detect signs of toxic relationships as soon as possible for your benefit. It can be hard for you to accept that the person you thought was the one is not the one. But don't worry it happens to many. Not everyone is for everyone right!!?. There is somewhere someone for you who is a green flag.
When that one person who you always talked to for hours is now getting irritated from your talks,  giggles make you feel like these are the signs of toxic relationships.
Toxic relationships expose many signs like not having communication with each other from time to time, ignoring your talks, not trusting you and being jealous of your friends, feeling drained, ignoring boundaries and many more.

You should never ignore the fact that for you YOU come first. Your mental health comes first. No one deserves to destroy your mental health. Signs of toxic relationships should be clear to you even before your relationship starts to turn into one.

If you wear something you like but your partner criticizes you for not looking good in it or for being fat, skinny whatever. You should never let it affect you. It is one of the signs of toxicity. Say, if they tell you that you don't look good in a particular dress that you like, will you stop wearing it just for the sake of that person? No! You want to wear it you wear it. Keep yourself as your priority. You don't deserve to be treated like this.
If your partner is criticizing you nonstop don't you think it is time for you to leave this toxic relationship?

Signs of toxic relationships can be a lack of respect which is extremely unexpectable. We should never tolerate the other person who doesn't have respect for us. RESPECT IS THE FOREMOST THING THAT COMES IN A RELATIONSHIP. You shouldn't tolerate this thing ever in your life.

Unhealthy relationships have signs of toxic relationships like being controlling,  dominating, and manipulative. No one has the right to tell you what to do or what not to do. One should always stand with the other person in whatever situation unless it affects them. Relationships are about being together it is not about being a main character there. It is about giving each other moments where they feel like the main character. The other person in a relationship tries to do things that make the person feel special.
They have no right to manipulate you into doing something that you are not ready for.
Many relationships fail because of the toxic, manipulative nature of their partner. So try to be as careful as possible.
Meeting their family is such a special thing for every relationship right?

Another sign of toxic relationships is isolation. If 'your person' doesn't include you with their family and friends. Isolating you from meeting them is not the right thing they are doing. If they do not include you in their personal life ( I know some people are very private but you also are someone who is a part of their private life) it is a huge red flag. It is not huge it is a GIANT red flag.

Ek Tera ek Mera
Every relationship has TWO people so both of them have to compromise one thing or the other. If your partner likes the temperature of AC 26° but you like it more chilled then you have to compromise so that your partner doesn't get sick. If your partner is not ready to compromise even the smallest of the things it is a wake-up call for you to stop daydreaming and start taking yourself more seriously. Every relationship builds into a healthy one when both of them are trying to compromise things for each other. It maintains and increases compatibility.

Koi aisa chahiye Jo bole chal ye baat krke solve krlete hai .
Every problem has a solution, right? And every relationship has problems. But only those who survive till the end who survive know that in the end they will talk and sort things out and find a solution. Rather than wasting time blaming each other people should try and find a solution.

A basic need that builds relationships is trust.
Trust can make a relationship shine like a diamond.  If you are the one person they trust with their whole heart then u are not allowed you know what I mean not 'allowed' to break their trust. Building Trust is very crucial for people it takes a lot of time, and patience to trust someone with all their heart. So signs of toxic relationships also include trust as one of the reasons. One should trust their partner this gives them a reason why the relationship should go on.

If your boyfriend doesn't trust you being around your guy friends or your Girlfriend doesn't trust you being around your girlfriends this is not something to ignore or to make them secure about cause most of the time they feel jealous and make rude comments which is not acceptable. Jealousy leads to long fights, harsh comments, and respect which not everyone can handle. People start to overthink even a single word coming from someone who means a lot to them makes them feel lesser or insecure. This is one of the signs of toxic relationships.

One of the very effective signs of toxic relationships is stonewalling. It is when the partner is not communicating when you are trying to. They are ignoring very crucial topics of the relationship which is a sign that they are not taking this relationship seriously because if a person is trying to keep up with the problems then the other person also tries to understand stuff.

Tumhara partner life se kuch or chahta hai or tum kuch or .

I know I know opposites attract but it all seems starry till you can manage it if not then the relationship starts to fall. So one should try and keep things as manageable as possible. It happens to long-distance relationships all the time but many long-distance relationships have maintained their compatibility and have passed all the tests to reach the point where they are the happiest couple in their universe. So incompatibility also is one of the signs of toxic relationships.

A relationship is a connection between two people who understand each other,  trust each other, love each other, and care and support each other. So it is a together thing. So both partners should feel included, and respected. If only one partner is trying to take all the load of the relationship then it is going to fall apart. One-sided efforts are nothing but useless unless the other person tries to compensate for not trying their best.

There are times when you want to be alone at peace and have a me time session but the other partner tries not to respect the boundary and ignores it. This is wrong and one should never do this. Respecting each other boundaries maintains peace and avoids conflicts. So disregarding boundaries is also considered as one of the signs of toxic relationships.
considered as one of the signs of toxic relationships.  

If you are not comfortable with the person who should be your 'comfortable person' Then what's the point of being with them? If you feel mentally and emotionally drained then it is not at all healthy for you. If they are making you feel like shit then why are even staying with them you should cut off them. They are supposed to make you feel special, and happy, take care of you, and not make you feel insecure and inferior. Feeling drained is also one of the signs of toxic relationships.  

It is very very very important for you to always be confident and never try to put down yourself just because another person said this. You should never keep quiet if your partner abuses you emotionally or physically. You are going to stand up for yourself, not anyone else, and have self-esteem and self-respect.

A toxic red flag needs to go away from your life. You also deserve happiness, peace and a healthy relationship like you wanted always. If you can recognize these signs of toxic relationships then you should immediately protect yourself. You come first and you are your priority.
Happy Dating!
Friend, it is time to find your green flag!
DOWNLOAD IDYLL  the perfect college dating app!!