How To Date When Life Keeps You Busy?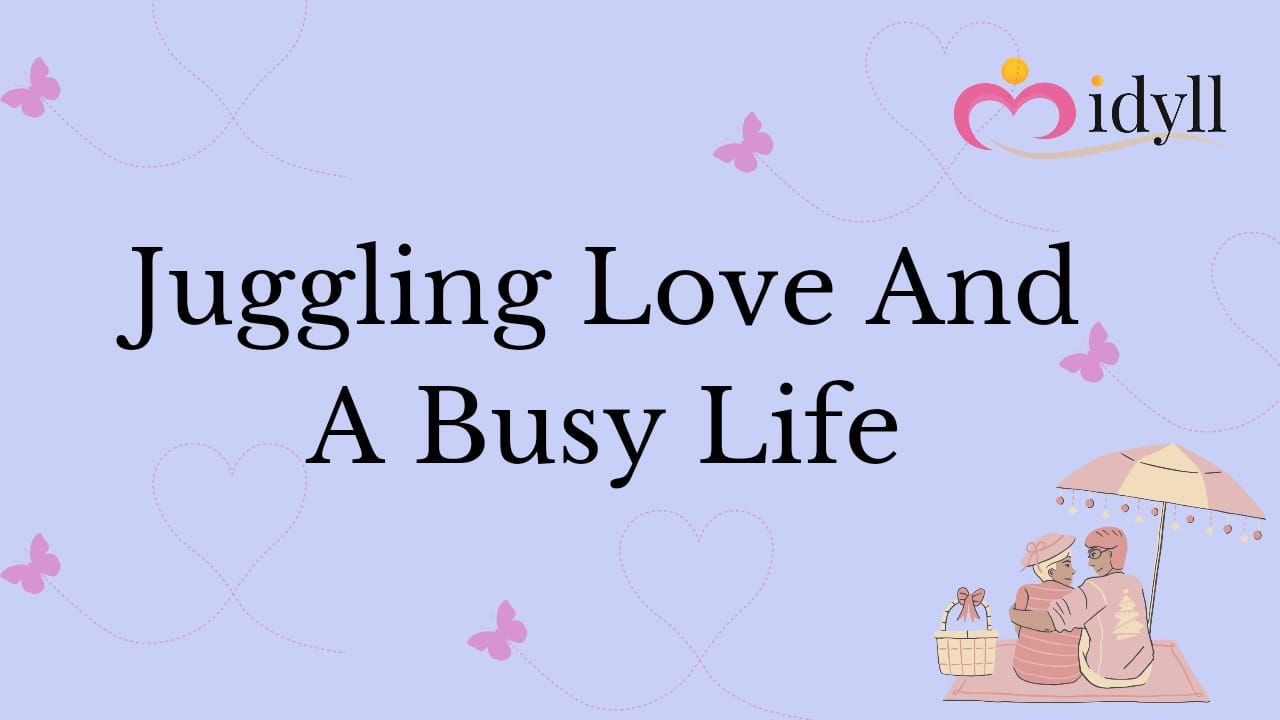 "Sorry, babe, we can't meet. Too busy." Are you the person whose go-to line is this for your date?
Well, do not worry!
We get it; people get busy juggling between studies, internships, work, and what not!
Being a busy bee, one can face dating problems.
Finding time for dating in this fast-paced world will not be a difficulty for you anymore because we are here.
Manage dating while being busy like a pro!
Buckle up for a few tips to date easily without sacrificing your schedule!
ONLINE DATING TO THE RESCUE
Meeting someone traditionally at a club or bar is outdated these days. Take advantage of growing technology by joining online dating apps. It allows you to find potential partners at your convenience. Connect with matches whenever and wherever.
Hint: Join Idyll to find your perfect match!
SHOW OFF YOUR SCHEDULE
Dating is not a routine that you have to follow. Make sure your partner knows your routine. Cherish your busyness. Who knows that prioritising your busy schedule can be a green flag for your date?
Letting your partner know about your schedule makes it easier for them to plan dates too.
Hint: Your partner won't disturb you in between your work if they know your routine!
FITNESS DATES ARE SO COOL
Combine your packed schedule and gym sessions together. Go out on fitness dates with your partner while training in the gym or going for a morning walk. Bonding while being healthy will make your relationship healthy too!
DATE YOUR WAY
Find time to spend with your date in unique ways. Call them during breaks between classes; text them flirtatiously while running errands. This excites your partner and keeps their spark alive!
Note: Video call them during your lunch break. Trust us, they'll like you a little more!
QUALITY MATTERS
Swiping endlessly amidst the hectic schedule can be nerve-wracking. Instead of going on countless dates, focus on quality. Go on dates with people you are actually interested in. It's important to match vibes with them first before going out on a date.
Hint: Choosing quality dates over quantity dates can save you a lot of money too!
TECHNOLOGY- YOUR BESTIE
The digital world can solve every problem quite easily. No matter how busy you both are, technology has always got your back. Video calling, virtual games, and sharing newsletters can help you make up for all the missed conversations due to your schedule.
THE ART OF SCHEDULING IS MAGICAL
Dating life requires time management too. Mark your dates on your Google Calendar, just like your classes and meetings. This will save you from forgetting about the dates and from many arguments.
PS: You can thank us later.
Making time for a love life is as important as meeting that deadline.
So, busy personalities, get back to your dating life with these things in mind. Life is chaotic and will always be. Don't let the dating era go before it's too late!
Conquer your dating days by tackling them easily.
Happy Dating!
Don't have a partner to find time for?
Download Idyll- The Perfect College Dating App!