How to Date a Commitment Phobic?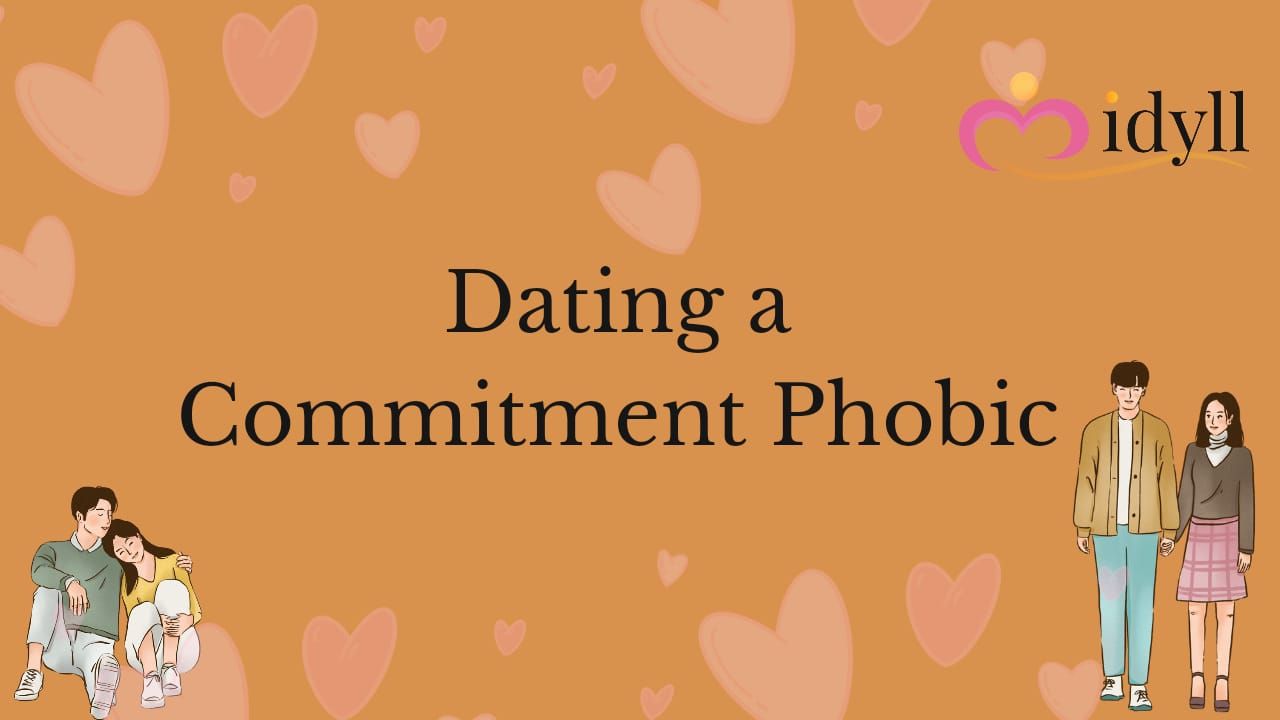 "Sabse phele mind me yahi aa rha hoga ke commitment phobic kya hota hai!"
Commitment phobia is a fear of being in a relationship, a long-term relationship, or making a serious commitment. This fear can be due to various reasons, such as a painful breakup, divorce, fear of losing relationships, or earlier relationship trauma and pain.
In scientific language, the word is "gamophobia," which means fear of commitment.
The questions that mainly arise before thinking about dating a commitment-phobic person are:
Is dating a commitment-phobic person possible?
Does a commitment-phobic person also fall in love?
What are the signs and symptoms that show whether the person is commitment-phobic or not?
Is dating a commitment-phobic person challenging?
So, if you are trying to find a solution to these questions, then in this blog, we will discuss all these questions related to the topic of dating a committed phobic person and, for sure, making your dating and relationship life easier.
Let us look at how to make dating a commitment-phobic person easier.
So first, let's see if dating a commitment-phobic person is possible. The short answer to this question is that it is possible to think of dating a commitment-phobic person.
Now you may think, How is it possible?
So before getting the answer to the question, you must know the reason why a person becomes commitment-phobic. This will help you in addressing the situation if you really want to make an effort and really want to date a commitment-phobic person!
What causes commitment phobia?

So the first and main reason is the past experiences of a person, be it a hurtful breakup or the history of their family.
Fear of not being in the right relationship
Trust issues because of past situations. Complicated family dynamics while growing up.
Sometimes the partner is unable to express themselves, which makes the other person feel that they are suffering from commitment phobia.
Now the main thing is how to get rid of this issue. When you seriously like someone and want to be with them or maybe suffering because
Some other fellow did wrong, and this thing is ruining your dating life.
Now, let's find something that may help you!
Here, psychotherapy (talking to them) can be the best way to pull them out of this situation. It works like this: the more you talk, the more you are known to them, and the more trust is built in them. In this way, they may understand you and your feelings, which may lead to a healthy relationship. In this way, dating a committed person becomes easier.
Secondly, your reputation plays an important role in this situation. If the commitment-phobic person has a positive outlook for you, then this will help you a lot.
Third, try to create more and more trust bonds. In a relationship, trust is the most important thing, so build trust.
Support them, start your support, and make them emotionally and mentally stable so that they feel comfortable.
Slowly show them how important they are to you! Show them they are everything to you and make them feel special!
This will surely help you know the easy method of dating a committed phobic person.
Now that you all know that dating a commitment-phobic person is possible, let's see how to date a commitment-phobic person.
So before dating a commitment-phobic person, you must know the signs and symptoms of this!
They struggle to express themselves, or they don't talk more about their personal lives.
They avoid discussing future plans. It does not mean that he or she doesn't want to make a future with you, but they are afraid of anything bad that may affect their future life.
They may use words such as ' may', 'can', or ' might'. 'This means they are not sure about their future as couples.
One of the biggest predictors of commitment and relationship success is the willingness to consider the future of the relationship and even make sacrifices for it. If they are reluctant to put their partner's needs first or avoid the word "we" in favour of "I," they may have commitment phobia.
They don't promise anything.
They can never be assured about anything, for example, time.
If you see all these signs, then maybe you get sad about the reality... But the actual thing is that they have suffered a lot, and this is something that you must know and realise.
If you want to start a relationship with a commitment-phobic person, then you must give your 100%, and you may have to lower your desire, attitude, or maybe ego in front of them until they are out of this situation!
Aab thoda aapko aacha lge uske liye….signs that may be show that whether they like or love you or not !!!!
They do spend time with you and seem to have fun with you.
They are at least willing to address the fact that they do fear commitment.
They get jealous when you talk to other guys or girls.
Most importantly, they are honest enough to share their fear of commitment.
They are willing to compromise things for you. which, at an earlier time, you need to do for them.
They are your advice or point of view on anything, such as selecting a dress, etc.
They start talking about future goals or plans.
They are not facing any struggle in expressing themselves, which earlier they used to face.
They start talking about romantic things and may form a physical intimacy type of relationship.
These points may help you gain knowledge about dating a committed phobic person and be happy in life with them.
A very important thing... How do you make a commitment to make a phobic man or woman fall in love with you, or how do you start dating a phobic person?
Give them the chance to vent their feelings.
If they open up to you, they'll be able to let go of their fears and doubts, and when this happens, they will start making a move towards you.
Give her your special and precious time so that she feels important.
Just try to win her or his trust and provide emotional and mental support.
Despite the challenges, it is possible to have a successful
relationship with a commitment-phobic person. By understanding each other, there is fear that both partners can work together to create a healthy and fulfilling relationship. It is important to talk about or communicate with potential barriers to one's fear and be open to their support and understanding.
Be understanding and supportive. It can be difficult to date someone when you know that they're scared of commitment, but if you can be understanding and supportive, it will make the relationship a lot easier for both of you. Try not to get frustrated with them when they pull away or take things slow.
Actually, in the modern world, dating is very common. Some get their life partner, while some may suffer from commitment phobia due to breakups. When you date them, you need to have patience and be understanding.
One thing that may help is that you need to be direct and clear.
This means avoiding beating around the bush or dropping hints; you must go directly and tell your feelings.
In conclusion
Commitment Phobia is a common fear that can be overcome by caring, a correct mindset, and support.
It is important to understand that commitment phobia is not a disorder or a diagnosis, and it can be changed with effort and true determination. Remember that you should prioritise your own emotional well-being and boundaries throughout the process.
Here, starting is difficult, but with proper care and support, the rest can be full of enjoyment, pleasure, and happiness, and you will realise that dating a committed phobic person is possible.
Happy Dating!
Find a partner to shower your love to.
Download Idyll- The Perfect College Dating App!